What's new in FoCal 1.5.2?
FoCal 1.5.2 includes the following fixed:
Addition of D4 support
Fix to a problem which caused LiveView to fail to start on Nikon cameras
Fix to a crash which occurs when Nikon cameras are set in AF-S mode with AUTO focus point selection
Correction to a fix which addresses the effects of a firmware bug in the D300 that incorrectly reports the currently set AF Fine Tune value
Fix for an occasional situation in the Fully Auto test where the test could get stuck in an infinite loop with flickering screen display
Fix to handle non standard date formats (e.g. Thai Buddhist Era calendar)
A few extra settings added, relating to ignoring IS/VR/OS operation, ignoring AF Microadjustment confirmation, and automatic report saving/showing
[PLUS and PRO Only] Ability to selectively restore AF Microadjustment/Fine Tune in the Camera Settings Save/Load utility
[PRO Only] Slight change to operational procedure for Aperture Sharpness test to get the best results
If you already have a license for FoCal, this is a FREE upgrade which can be obtained by going to the License Management System , logging in and you will find the download links at the bottom of the page. Note that you do not need to update your license
If you're interested in FoCal, click here to find out how to get the latest version of FoCal, or upgrade your version to Plus or Pro for extra features.
What's new in FoCal 1.5?
FoCal 1.5 started off looking at how the underlying test code in FoCal could be improved and ended up being much, much more!
MultiPoint Focus Test (Pro Only)
The new MultiPoint Focus Test lets you test individual focus points for focus performance, and even generate independant AF Microadjustment/Fine Tune predictions for every focus point on the camera!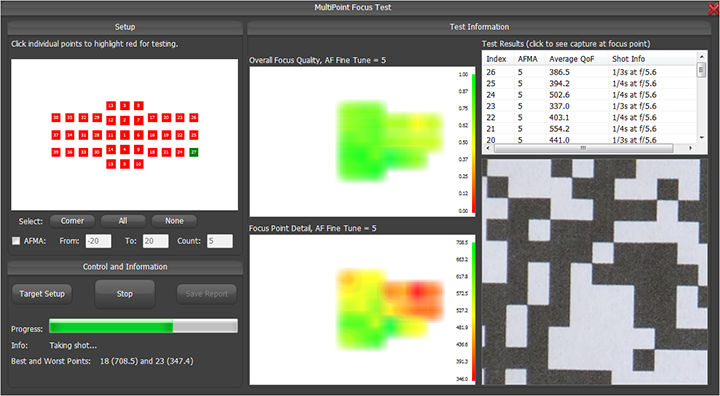 The test uses a new target to test across the field of view of the lens. It's robust to field curvature effects, and shows you how each focus point compares with the best and where it falls within the range of qualities. You can quickly and easily use this test to analyse the peformance of your focus points, and also asses the quality of your lenses.
The manual has been extended to include details about this test and how to use it (see section 14 when you download the software package), and it's definitely worth reading this to find out how to use the test.
Off-Centre Focus Point Analysis for Nikon users (Pro Only)
FoCal 1.3 introduced the ability to run the Fully Automatic test on Canon cameras and not be tied to the centre focus point.
FoCal 1.5 brings the ability to test off centre focus points on Nikon bodies, as well as running with any supported test (not just the Fully Automatic test). It's now simply a case of choosing the focus point from the display in the Target Setup utility and running your tests
New Analysis method
A new analysis method has been introduced which is less sensitive to light level changes, more robust in the presence of chromatic abberations and much less dependant on the content of the analysed image than the original analysis method used from FoCal 1.0 through to FoCal 1.4. It's down to this new analysis method that the MultiPoint Focus Test was possible, and the results from FoCal should be more reliable in all tests when the test environment is not absolutely stable and perfect.
Much improved Target Optimisation (Pro Only)
Target Optimisation uses knowledge of the target to optimise where on the image the analysis takes place. This means that slight movements to the setup during testing will be compensated for, and the results will be more reliable and consistent. Whilst in previous versions this worked fairly well, there were some issues and it could occasionally cause the results to degrade. Now, through the use of 3 different techniques (image registration, shape detection and image correlation) the analysis region is moved with pixel accuracy to compensate for movement and the effect of image shift when focusing.
This is especially useful in MSC mode where you have to press buttons on the camera during the tests, and this can introduce slight movements which can affect the analysis.
Completely reworked test framework
FoCal grew organically from FoCal 1.0, and the underlying code contained a lot of duplication. Because of this, fixes in one test weren't always translated to other tests, and the behaviour of the software throughout the tests wasn't always consistent.
FoCal 1.5 has a completely new test framework, and the tests are now much more consistent and reliable. From test setup to report generation, every aspect of the test is clearer and better implemented.
Other additions
AF Fine Tune in MSC mode is now validated with Nikon cameras (except the D300 due to a firmware bug) - so accidentally putting the wrong value in during MSC operation will be trapped.
The MSC message to change the value has been made much larger and clearer to it's even easier to run with an MSC mode camera.
Target Setup has been improved to better handle zoomed LiveView mode
The Dust Analysis tool (FoCal Pro) has been reworked and should be much more reliable .
AF Consistency (FoCal Pro) is now better reported.
Important fixes for Nikon cameras and operation on Windows Vista
Get FoCal
Click here to find out how to get the latest version of FoCal, or upgrade your version to Plus or Pro for extra features.